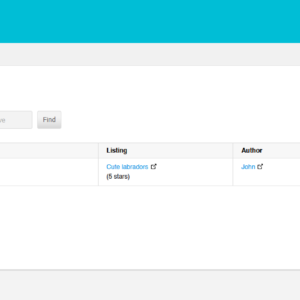 User & Item Reviews Plugin
The most powerful plugin for rating and reviewing listings and sellers.
Introducing the most robust and advanced rating and review system ever developed for Osclass – designed to take your classifieds website to the next level. With this powerful plugin, you can effortlessly add a fully-functional rating and review system to your Osclass site, enabling users to share their feedback and rate listings and sellers with ease.
This feature-rich plugin offers a range of customization options, allowing you to tailor the rating and review system to your specific needs. You can control who can leave reviews, enable/disable certain functionalities, and even moderate user-generated content to ensure your site remains spam-free and family-friendly.
Also, this is the only plugin of its kid with a self-cleaning function based on daily Cron, meaning that if a user deletes his listing/account, the reviews will also be removed automatically from the database, saving space and preventing the presence of invalid-ghost reviews.
Whether you're running a small niche classifieds site or a large-scale marketplace, this powerful rating and review system is the perfect solution for enhancing user engagement and driving growth. So why wait? Get started today and take your Osclass site to the next level!
Note: The max tested PHP is 7.4.x
Only logged in customers who have purchased this product may leave a review.