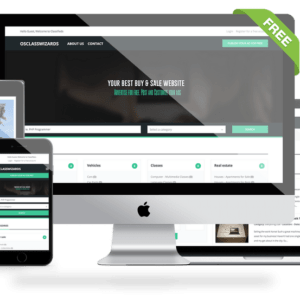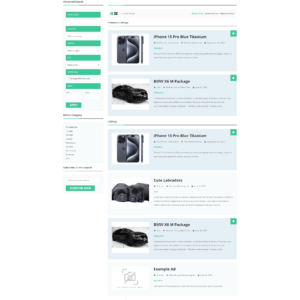 OsclassWizards Theme
Free
A modern, clean and responsive theme for your classifieds site
The responsive OsclassWizards theme was designed to offer a smooth and adaptable experience on any screen size. It utilizes the widely-used Bootstrap framework and boasts a clean, user-friendly design that can be easily customized.
It supports all default Osclass Enterprise features, as well as third-party plugins.
The Enterprise Classifieds team has updated the theme, incorporating design and performance enhancements to ensure top-notch quality.
Don't hesitate to download and try it out today!
Requirements:
Osclass Enterprise 3.10.x
The recommended PHP is 7.4.x
Only logged in customers who have purchased this product may leave a review.
Changelog/2.0.9 | August 31, 2023 - by Enterprise-Classifieds.com
Added an extra check in user-public-profile.php to show the contact form only if the user has active items.
Fixed an issue with the comment list being visible only to logged in users.
Changelog/2.0.8 | May 2, 2023 - by Enterprise-Classifieds.com
Fixed a translation issue in item.php
Changelog/2.0.7 | Apr 4, 2023 - by Enterprise-Classifieds.com
Added compatibility with Osclass Enterprise v3.10.0
Updated Font Awesome to 5.15.4
Updated Bootstrap to 4.4.1
Updated fancyBox to 2.1.7
Fixed some major issues (broken design, incomplete/missing functions, JS bugs ...)
Refactored some code
Improved the overall performance
Replaced some dead links
Changelog/2.0.6 | Nov 18, 2018
Updated font awesome to 5.5.0.
Changed http in font url and gravatar url to https.
Changelog/2.0.5 | Oct 1, 2018
Updated bootstrap to version 4.0.0.
Updated font awesome to 5.3.1.
Updated old database connection to new DAO connection method.
Changelog/2.0.4 | Feb 17, 2016
City select in Search fixed.
Optimized theme codes.
Minor PHP bugs fixed.
Changelog/2.0.3 | Jan 19, 2016
Supports Latest Osclass Version 3.6.1
Bootstrap version v3.3.6
Font Awesome Version 4.5.0
Bugs Fixed
Multi Currency Plugin compatible
Changelog/2.0.2 | Aug 9, 2015
JQuery version v1.11.3
Bootstrap version v3.3.4
Font Awesome Version 4.4.0
FancyBox version v2.1.5
Premium Slider added – homepage and category page
Country based search added (Homepage)
Advanced search field replaced to dropdown select with country search (Search/Category Page)
Minor css bugs fixed
User listings link added on item page
RTL view issue fixed
5 new theme color added
Google Recaptcha design issue fixed
User description mutli languages issue fixed.
Changelog/2.0.1 | June 26, 2015
Popular regions, city, sorting. Under "Popular In OsclassWizards" above the footer in Homepage.
Select option scroll bar bug fixed
Categories parent child select ( Parent category visible now in item post page )
Cars attributes plugin compatible
Rich editor plugin compatible
Price disable on category bug fixed in item post page.
Locations required bug fixed (item post page)
Item without photos displays default photo
Facebook script only on item and search pages to optimize the performance
"Login/Register for a free account" buttons compact display CSS problem fixed
Categories on homepage overlapping when more than 8 problem fixed
Category multiple selects enable/disable (item post page)
Dutch, German, Russian Language pack added
Changelog/2.0.0 | June 3, 2015
Themes bugs and issues fixed.
Theme design and layout changed.
Premium listing added in homepage.
Language support: English (default), Spanish, Portuguese, Indonesian, Lithuanian, Swedish, Turkish.
Multiple color support [ 5 pre-defined color added for theme].
Popular Searches, Region and Cities added in homepage.
Font Awesome icon added for the categories.
Facebook like box added.
Social sharing for item page.
Advanced admin panel control.
Changelog/1.0.7 | May 10, 2015
'Theme update URI' changed.
Language support: English (default), Spanish, Portuguese, Indonesian.
Changelog/1.0.6 | May 3, 2015
Fixed installation problem of the theme's zip file from admin panel.​
Fixed minor PHP notice bugs.
Updated language 'theme.po' file.
Changelog/1.0.5 | April 19, 2015
'Watchlist' plugin compatible.
Changelog/1.0.4 | April 13, 2015
Minor css and javascript issues fixed.
Changelog/1.0.3 | April 12, 2015
Language Translation fixed. Updated "theme.po" file.
PHP notices debugged.
RTL view option added in theme options.
Minor CSS issues fixed.
Category and Location select dropdown menus render issue fixed.
Footer links separator added.
404 page css fixed.
SEO plugin added for items custom title and meta tags.
OsclassWizards Theme Setting added.